Regular Edition (BACKER Edition only available via Kickstarter): Paddles of Nuclear Gunnery - for Sega Genesis
A downloadable game for Windows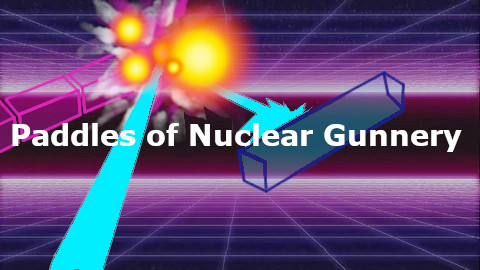 !!! KICKSTARTER NOW LIVE FOR PHYSICAL CARTRIDGES !!!
!!! HELP THIS GAME CROSS INTO THE PHYSICAL PLANE !!!
https://www.kickstarter.com/projects/donstathemonsta/paddles-of-nuclear-gunnery-...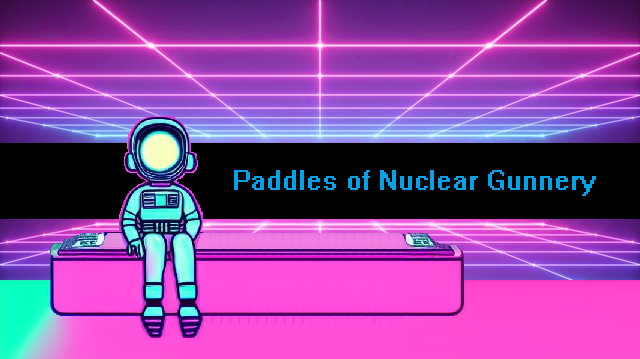 This is a new game for your Sega Genesis/Megadrive or favorite emulator. Recommended emulator for PC: BlastEm.
Recommended emulator for Android: MD.EMU.
Others also work great! Those are just the ones I used in my testing.
!!! WARNING: SOUNDTRACK REQUIRES EARS TO BE FULLY APPRECIATED !!!
You think you recognize this game, but you don't.
THE WORLD
It's the year 19849, and NEON powers most technology. The only thing you can do now... is FIGHT!
Your futuristic ship, called PADDLE, can move in 8 directions and has supreme firepower. Except that you're not the only pilot. Fight to the death in the arena for glow and glory and that sweet, sweet "POW!" of victory.
THE GAME
Score points by getting the ball to your opponent's side of the screen. Use your weapons and shield by spending points.
THE CONTROLS
C button changes you between MODE 1 and 2.
A and B fire your weapons when in MODE 1 and your shield when in MODE 2.
START pauses the game
GAMEPLAY MODIFIERS ARE IN THE OPTIONS MENU
Be warned that the gameplay modifiers in options are set automatically when you play arcade mode, so you'll need to adjust them yourself before playing cruel mode or VS for a combination you like!
THE TECHNIQUES:
- While in MODE 1, you have a set speed and have access to your lasers. Your lasers cost 10 points to fire and can be fired upward with A or downward with B.
- CHAIN SHOT: Any laser that you fire immediately after another (while your beam is already on screen) will only cost 5 points, and will have its direction reversed.
- While in MODE 2, your movement speed is based on how many points you currently have, and you can activate your shield by pressing A or B, which protects you for a short time and costs 5 points. If you touch your opponent's laser while shield is on, you will absorb 10 points of energy.
- BALL CONTROL: the ball's movement is affected by your speed and directional inputs at the time of impact.
- STARTING THE NEXT ROUND: either player can start the next round when playing VS mode. After a kill, press START to move to the next round. MODE 1 starts the round with a moving start, with the ball's initial speed and trajectory being based on the ball's movement at the time the player pressed START. If you press START to move to the next round while in MODE 2, it'll be a still start.
- MENU: return to the MAIN MENU by pressing START BUTTON during gameplay.
THE RECEPTION:



Purchase
In order to download this game you must purchase it at or above the minimum price of $5 USD. You will get access to the following files:
Paddles of Nuclear Gunnery - v30.bin
1 MB
Paddles of Nuclear Gunnery - for Windows v30.zip
2 MB