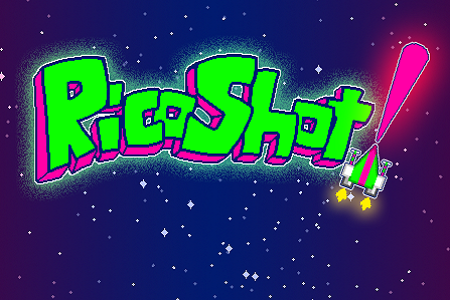 RicoShot! - 3 of 4 endings complete!
👇TOUCH COMPATABLE
PLAYABLE ON MOBILE! SIMULTANEOUS 2-PLAYER!
GHOST: Ghost is the ship waiting at the bottom of the screen, and he has neat abilities. He can warp around the screen (Asteroids-style), deflect purple blasts, and after deflecting enough small purple shots he begins to glow. This means he'll release a blast in 3 seconds, doing damage to anything in its range and destroying small purple shots for points! Use him for 2-player or multitask by yourself. Move him slightly off-screen if you're done with him!

Stop the Drill King from drilling space for its resources at the expense of everyone else! Take an experimental new weapon and bring its power to your enemies. Think this is your usual shmup? Think again. Be careful with your shots, and aim true.
Donations allow me to keep making free games for you all, so please donate at this page by supporting any of my games listed.
https://donstathemonsta.itch.io/
Destroy the enemy, and try not to destroy yourself. The faster you are, the more points you get.

POINT REWARDS:
- Upon death your progress through the stages is converted to points, but much of your points are earned in combat, so spend wisely at the shop.

- Standard enemies give 1 point and add 3 seconds to the clock

- The drill king gives 10 points

- Destroying a ricochet with Ghost Bomb/Beam gives 1 point

- Upon reaching 40 points more than the initial score of the stage (0 for the first stage), remaining time will be divided by 10, rounded to an integer, and converted to additional points
- Collecting an enemy power-up gives 1 point and 1 second, preventing an enemy from getting it, which is probably more important.
- If you can earn an additional 10 points after the boss appears, you'll get the chance to go to subspace, a much harder alternate stage! Possible stage paths are as follows:
1 -> 2A -> 3A
1 -> 2A -> 3B
1 -> 2B -> 3A
1 -> 2B -> 3B
ARROWS / HOLD ON SCREEN - move
SPACE / TAP RED ON-SCREEN BUTTON - fire
WASD / DOUBLE-TAP ON DESTINATION - control Ghost
P / GREEN ON-SCREEN BUTTON - pause game